** Latest updated on - 03/22/2015
**
Quick link to
NEWEST
photos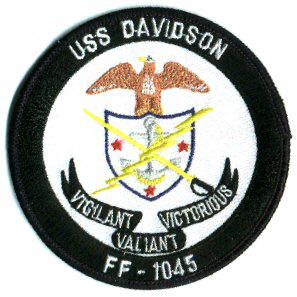 Below taken from and more pictures available at: NavSource Online





N - H - G - M
Tactical Voice Radio Call: "Husky Pup"
---
Awards, Citations and Campaign Ribbons











Precedence of awards is from top to bottom, left to right
Top Row: Combat Action Ribbon
Second Row: Navy Meritorious Unit Commendation w/star - Navy Navy Battle "E" - Navy Expeditionary Medal
Third Row: National Defense Service Medal - Armed Forces Expeditionary Medal w/star - Vietnam Service Medal w/7 stars
Fourth Row: Navy Sea Service Deployment Ribbon - Vietnam Gallantry Cross Unit Citation (2) - Republic of Vietnam Campaign Medal

---

CLASS: Garcia (As Built) FY / SCB No.: 61-63/199A
Displacement: 2620 tons (std), 3400 tons (full)
Dimensions: 414' 6"(oa), 390" (wl) x 44 x 24'
Armament: 2 x 5"/38 Mk 30, 1 ASROC Mk16 (16 missiles), 4-324mm Mk 32 (4x1 fixed) tubes / Mk 46 torpedos
Machinery: 2 FW 1200-psi boilers; 1 Westinghouse geared turbine; 35,000 shp; 1 shaft
Speed: 27 knots
Range: 4,000 nm @ 20 knots
Crew: 13 / 234
Radars: AN/SPS-10 (surface), AN/SPS-40 (air)
Sonars: AN/SQS-26AXR

---

Operational and Building Data
Laid down by Avondale Marine, Avondale LA on 30 September 1963
Launched 2 October 1964, Commissioned 7 December 1965
Reclassified Frigate (FF-1045) on 30 June 1975
Decommissioned 8 December 1988


---

Fate: Leased to Brazil 15 April 1989, renamed NAe Paraiba (D-28),
Sold to Brazil 24 January 2001,
Decommissioned from Brazilian Navy 26 July 2002
Sank in early 2005 at Lat. 23 Deg. 05', 745 S, Long. 042 Deg. 59', 521 W at a depth
of 60 meters (just off the coast of Brazil) while being towed from Brazil to the
scrapping yards in India, in company with ex-USS Sample (FF-1048)

CRUISE BOOKS
1980


click
HERE
for my pictures!
I scanned my copies of the 2 cruise books
from my tour and converted them to PDF files.
To view - click on each picture.
They are 16.2 MB and 14.4 MB in size.
(Additional Cruise Books below)
1982-83


click
HERE
for my pictures!

VIDEO CLIPS OF DAVIDSON IN DAVY JONES' LOCKER
I downloaded these video clips from
Brazil's Wreckfinder's web site


From Brazil's Wreckfinder's:
USS Davidson Ceremony - Nov 07, 2009
http://www.youtube.com/watch?v=N0SHh8u8WFc
"Tribute to the USS Davidson in memory of the veterans who were in Vietnam, and in missions following. Members of the USS DAVIDSON REUNION ASSOCIATION sent us the American Flag, medals, flag of prisoners of war (POW flag), dog tags and photos. We packed in a metal box and deposited in the sinking through the chimney, there to remain for eternity. Participants: Edu Kossatz, Captain Basilio, Bob Light, DOC, Conti, Azoury, Joe Costa, Frugoni, Daniel Correia, Ziba and Rick Namen."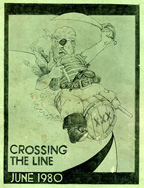 The complete OpOrder
click
HERE
size: 5.6 MB

A video clip from a helo fly over of
Diego Garcia, B.I.O.T. in the early 1990s.
Click HERE


80 MB

Diego Garcia B.I.O.T. 1980
Just after main space fire during repairs.
We sure were tiny, huh????? Especially next to our nuke
"tug-boat". I think we were the only FF that could claim
"Underway under nuclear power".
ADDITIONAL CRUISE BOOKS
Mike Peck scanned these copies of cruise books
and I converted them to a PDF file.
To view - click on the picture.

.

** 1971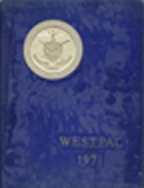 77 MB

**
Bill Allen put together a collage of pictures from WESTPAC 82 and posted it on YouTube.
Click HERE to view